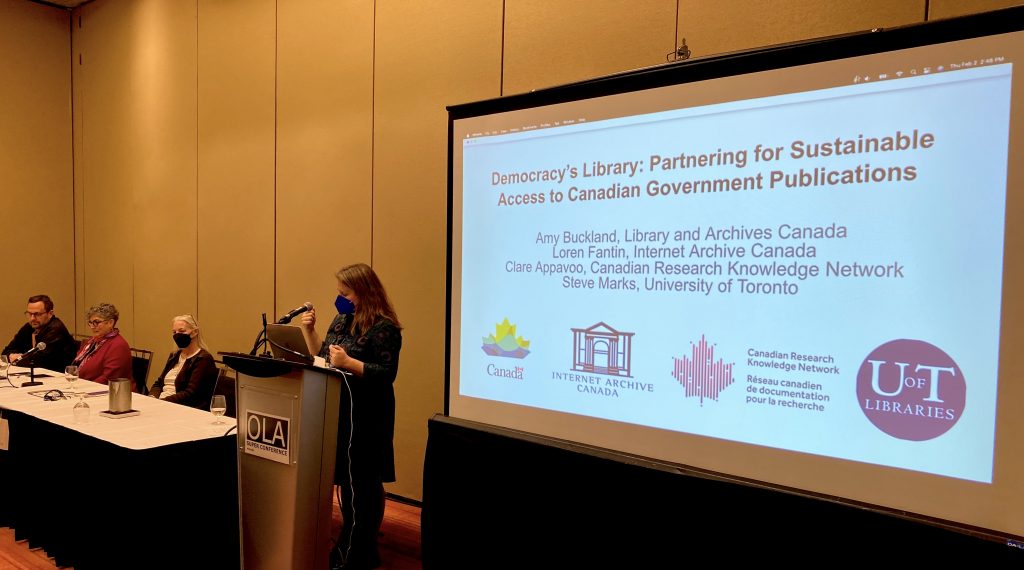 Caption: Amy Buckland, Assistant Deputy Minister, Collections at Library and Archives Canada speaking at OLA Super Conference
The Internet Archive has launched its Democracy's Library initiative in Canada, aiming to ensure free access to government publications for all citizens. These publications provide important information about Canadian life and are a valuable resource not just just for research and education, but for a free and informed citizen. These are official publications and come from trusted sources, making them a reliable source of information for the public.
The February 2, 2023 panel discussion highlighted the need to ensure long-term, open, sustainable access to government publications, and the burgeoning partnership between Internet Archive Canada (IAC), Canadian Research Knowledge Network (CRKN), Library and Archives Canada, and the University of Toronto to create a free, open, online compendium of government research and publications through the Democracy's Library project.
The collaborating organizations collectively hold some of the largest collections of Canadian government publications and have long been leaders in digital access and preservation of Canadian heritage materials. This partnership leverages their collective expertise, networks, technology, resources and content to create a national solution for sustainable digital access to this important content for future generations.
Amy Buckland, Assistant Deputy Minister, Collections at Library and Archives Canada, started the discussion with a focus on access; preservation is integral, but the accessibility and useability of our collected heritage must be a priority.
Loren Fantin, Special Projects & Strategic Initiatives Lead, Internet Archive Canada, provided an overview of Internet Archive Canada's activities, including progress on Democracy's Library, and the Canadian Government Publications Portal that has been a growing set of digitized government publications since 2004, now making 68,000 publications and 12M pages available.
Clare Appavoo, Executive Director of Canadian Research Knowledge Network (CRKN), outlined the extensive holdings of both the Heritage and Canadiana collections, including more than 1.7 million pages of pre-1900 colonial, provincial and federal government documents from Library and Archives Canada. Clare also emphasized CRKN's recent service improvements and collaborations, including the Respectful Terminologies Project in coordination with the National Indigenous Knowledge & Language Alliance (NIKLA). Internet Archive Canada is also a supporting organization.
Steve Marks, Digital Preservation Librarian, University of Toronto, provided a much anticipated update on the mass digitization of government publications underway at Robarts Library. Since January 2022, over 23,000 publications have been digitized, adding more than 5 million pages to the portal. An ongoing aspect of this living project will be matching and enriching catalogued metadata for these newly digitized publications.
With the proliferation of misinformation on the internet and the increasing number of paywalls, access to these important resources is becoming more limited. The Internet Archive's Democracy's Library initiative is a step in the right direction, ensuring that all Canadians can access our shared history and the information we need to make informed decisions.